About Nebraska Low Vision
---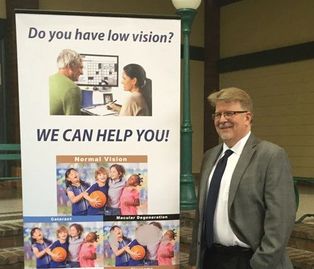 Nebraska Low Vision founder Patrick J. Fischer
In 1999 he moved its office to Omaha, Nebraska and working out of an apartment grew sales in the states of Nebraska, Iowa, Missouri and Kansas while holding a Rehab Engineering contract in Missouri. In 2002 Patrick opened his first showroom featuring low vision products in Omaha at 108th and Maple, and in 2003 to a larger showroom at 120th and Center called the Low Vision Mart. In 2006 a bigger store was opened in Omaha at 111th and Fort Street which later had the name Nebraska Low Vision on the building. A second store was opened in Urbandale, Iowa in 2008 and eventually carried the name Iowa Low Vision.
Times change and Patrick closed the retail stores down in 2014 and merged all manufacturers with NanoPac, Inc. which was founded in 1987. NanoPac's is America's best company dedicated to serving the Blind and visually impaired and Patrick now has access to the majority of manufacturers that make products which help the blind and visually impaired. Every product sold comes with life-time support from NanoPac.
Nebraska Low Vision is an on-line store for shopping and providing life-time support on all the products it sells. Nebraska Low Vision's service department serves the State of Nebraska and Iowa and provides in-home service providing in-warranty, and out of warranty repairs for customers. Nebraska Low Vision works on most CCTV's to repair, upgrade or replace defective units as needed.
Manufacturers Serviced:
Clarity
Enhanced Vision
Freedom Scientific
HIMS
Humanware
Magnisight
Optelec
Telesensory